Yesterday marked the return of elite women's road racing in the UK and it didn't disappoint. After an attritional race featuring punctures, mechanicals and a winning breakaway, two CAMS-Basso riders, Natalie Grinczer and Jess Finney, sprinted their way to top 10 finishes.
Seven of our team riders lined up in Melton Mowbray amongst a field of 140 riders for the start of the 5th edition of the Women's CiCLE Classic. This 105km race is unique in the British calendar as, in addition to three notable climbs, the route also features three main off road sectors – Manor Farm, Somerberg and Sawgate Lane – to spice it up.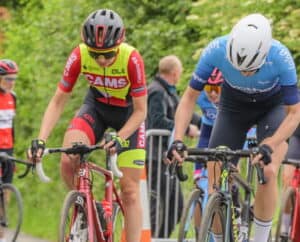 It was Natalie's first time at CiCLE and it's safe to say there were some nerves ahead of the race. "I've never raced CiCLE before as I've always been away," said Natalie. "We drove the course on Saturday and I was sceptical as to whether I would even finish. It's taken longer than I expected to find my confidence coming out of lockdown, but once we started racing, I stopped thinking and just dealt with the situation at the current time." 
Frustratingly, Natalie was caught up in a crash during the race, which led to a minor mechanical that she was fortunately able to fix. "It felt like a lifetime trying to sort it out but I was able to get back to the front after a fair chase," recalls Natalie. 
Jess was also fighting hard to maintain position during the race over the demanding and gruelling parcours. "I am very happy with how I managed to keep myself in a good position for all the sectors," Jess tells us. "Unfortunately, just before the second pass of the Somerberg I had to have a wheel change. However, thanks to a great job by the team, and especially our mechanics, I got on to the back of the group just before we got onto the sector."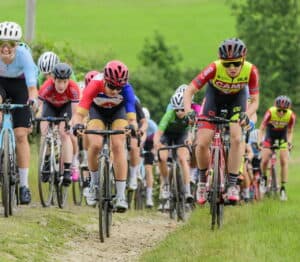 With the race splitting apart in the second half, and Natalie and Jess in the front bunch, they worked together to try to escape the peloton. They ended up getting reeled back in and a group of about 30 were back together for the finishing lap, with Abi Smith from Team Breeze already away up the road with a gap of over one minute.
Neither Natalie nor Jess is a pure sprinter, so they came up with a plan. Jess recounts, "On the finishing circuit we planned to attack and try to escape the sprinters in the group. I attacked up the climb coming out of Melton but unfortunately couldn't make it stick for the whole lap."
And so it came down to a sprint for second from the bunch. Natalie came round the last corner with only a few riders in front of her, with Jess a little further back. Both of them gave it full gas and were delighted to come away with 5th for Natalie and 9th for Jess. 
Team principal, Simon Howes was happy with how the race went for the team. "It was a good individual and team performance at CiCLE," he said. "Natalie's performance was inspiring. She was caught in a crash and then chased for a long time to come back to the front of the race. For her to then get a result in a bunch sprint is a first for Natalie. Jess's attack in the final lap was great for her. It shows that if she keeps persevering, she will get a podium in a national series."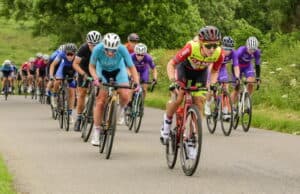 As well as great individual performances, CAMS-Basso finished second in the team classification.
Race winner, Abi Smith from Team Breeze, had an outstanding ride. Abi attacked with 40km to go and in the end had a lead of over 2 minutes when she crossed the finish line solo. She made history, winning by the biggest margin in the race's 5 year history.
Round 2 of the National Road Series will be the Ryedale Grand Prix on 22 August. Our next race is the Otley GP on Wednesday.
Final team results for Women's CiCLE Classic:
5th Natalie Grinczer 
9th Jess Finney 
30th Hayley Simmonds
33rd Katie Scott 
43rd Meg Barker 
45th Emma Edwards 
DNF Kate Wootton