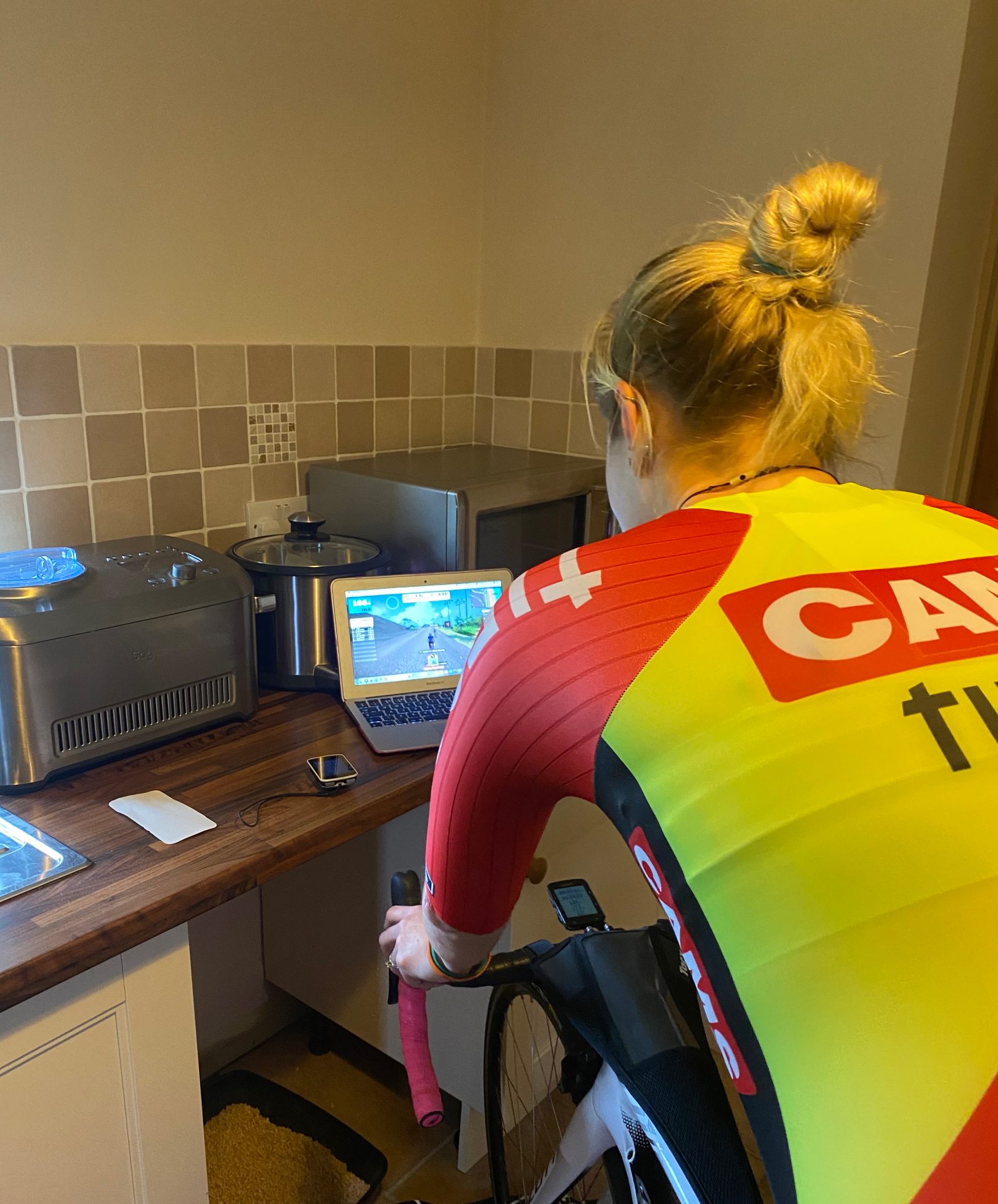 17 Feb

Hayley Simmonds blog: A tale of two winters

I'm sitting at my kitchen table looking out of the window at a layer of frost on the grass, having recently finished a turbo session.  Back when I first started cycling in 2011 I used the turbo a lot; from 2012-2016 I did a PhD in inorganic chemistry which meant long hours in the lab during the day and so turbo intervals formed a significant part of my training.  Since becoming a full-time rider however I've mostly steered clear of indoor hours, preferring to put the miles in outside.  In fact I'd go so far as to say I've actively avoided the turbo over the past few years, choosing to get rained on or blown around by the wind instead.  I'm not sure when or why this dislike of the turbo developed…

In 2018 when I broke my elbow my husband Mark bought me a smart trainer to make the enforced indoor hours feel more like real-world cycling but having a shiny new toy didn't make me any less grumpy.  I forced myself back out onto the road just 3 weeks after surgery and the turbo moved into the shed (with hindsight this was not my smartest move but stubbornness is another of my dominant character traits).  I can probably count on fingers and toes the number of uses it has had between then and the end of last season – quite a high cost-to-ride ratio! However this winter has been unlike any other that most cyclists (particularly those based in the UK) have experienced, and with no warm-weather training camps or early season Spanish racing on the horizon, it seemed like the perfect time to tackle my turbo phobia for the benefit of the highly specific and focussed sessions that are only really possible indoors.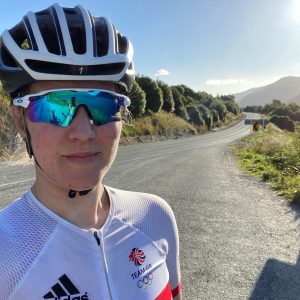 Thinking back only a year, it's somewhat hard to believe that I combined my winter training with a trip abroad.  I was fortunate to be in the Southern Hemisphere training happily outdoors, on quiet roads, in shorts sleeves and no mitts.  Honestly, 'winter' training has never been so pleasurable or easy.  Don't get me wrong, there were still some trademark grumpy moments; initially we had planned to travel around North Island, New Zealand entirely by bike, carrying our belongings in luggage rolls, but it wasn't long (2 days on South Island to be precise) before I decided that it would be better to make alternative arrangements.
In reality Mark had far more reason to complain – the bars on my race bike were so low that I could only fit a rear luggage roll on my frame so he had most of the weight to carry but didn't have as wide a range of gears.  However I wasn't a fan of the instability when trying to climb out of the saddle and I certainly didn't like being slowed down by the additional weight.  I haven't entirely abandoned the idea of bikepacking in future as a way of exploring beautiful countries such as New Zealand, but I'd probably spend more time planning an appropriate bike and equipment before setting out!
The trip as a whole was a perfect balance of training and travel and I'm incredibly grateful that we were able to make it, particularly given that any form of travel now seems like a luxury.  I've always loved exploring new countries and I'm fortunate that I was able to do a lot of it prior to becoming a full-time cyclist.  Of course I've also travelled a lot during my cycling career and I've raced all over the world, but it's a very different experience.  People often comment on how lucky we are as athletes to travel to and race in so many different places.  Of course, that's true, and I certainly don't take it for granted.  However what is often not appreciated is how exhausting the experience can be.
A good example of this is the Tour of Chongming Island WWT race that I participated in back in 2019.  I flew to Shanghai on the night of Monday 6th May, landing on Tuesday 7th.  I was collected from the airport by the race organisation as part of a group pick-up, and arrived at the race hotel around dinner time that evening.  Wednesday was a day to spin out the legs after travel and get organised for the 3-day race which took place Thursday – Saturday.  After the final stage finished around 2pm on Saturday 11th, we packed bikes, transferred back to Shanghai and my flight home was around 9pm that evening.  I landed at Heathrow early on Sunday morning, went home for a quick nap and then did a 2 hour training session later that afternoon.  This is a relatively extreme example but in almost every case of racing abroad, we actually normally experience very little of the country we're racing in and the trip as a whole can feel quite stressful.  During the season there can be weeks of living out of suitcases and I've had months where I've only spent 2 or 3 nights in my own bed.  In fact, by the end of October, I'm normally exhausted more from travel than from racing and training.
Of course, given the situation we are now in, simply being able to travel anywhere feels like a dream that we all can't wait to experience again.  I'm looking forward to rushing through an airport with a bike bag, laughing about race hotels, wondering what I'm being fed at the hotel buffet and explaining to my family that no, I didn't get time to do any sightseeing.  I would like to think that I won't take any flight or trip abroad for granted again.  For now I'm exploring the world via my computer screen and the various courses available on Zwift.  Since starting my winter training block at the beginning of November I've slowly rediscovered my turbo legs and I'm happy to report that the Neo has now had plenty of use, owing to a combination of bad weather and lockdown.
I started introducing Zwift into the mix at the beginning of January and I do feel like I've been bitten by the bug…I think it comes with being incredibly competitive! Having previously shrugged off suggestions that I should try it out for training, I'll admit that it is an incredibly impressive piece of software that not only makes the time on the turbo pass more quickly but also makes me push myself much more in an endurance session than I otherwise might.  It's not currently possible to travel to a foreign training camp but I've been able to relive one I did in Innsbruck back in 2018 and I even spied the apartment that I lived in! I'm hopeful that racing will be on the cards for the team later this year but for now, I might get into e-racing…watch this space…