The HSBC UK National Women's Circuit Series kicked off on Wednesday with the Spatz Women's Otley Grand Prix. The crowds turned out to line the circuit on a fine Yorkshire evening, and the racing did not disappoint.
Racing was fast and furious from the gun, with any attempted breaks being closed down quickly. CAMS-Basso riders Jess Finney and Katie Scott were regularly seen animating the race from the front.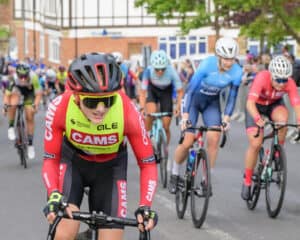 A whittled down bunch was still all together as they sped down Birdcage Lane for the final time and into the start-finish straight. Eluned King from Team Breeze had a marginal lead and she held on to take the win. Meg Barker was our top finisher in 14th.
Simon Howes, Team Principal commented, "We love coming to Otley to race. Both the racing and the atmosphere are something else. It's a favourite on our racing calendar, so it's really good to be back here this year.
"With more racing happening again in the UK it was Jenny Gretton's first time managing the team," Howes continued. "It's another big step towards us supporting equality in our sport."
"It was great to work with the team at Otley on Wednesday night and to meet everyone in person for the first time," said Jenny Gretton, Assistant Director Sportif for CAMS-Basso. "While we didn't deliver the result we were looking for, there were a number of strong performances on the night and it is clear to me that there is a great deal of potential within this team."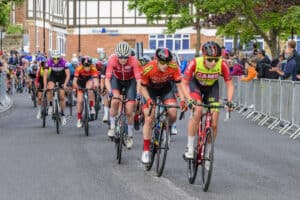 In a race like Otley, positioning is key. "We had seven riders in the race so we wanted to be in the mix from the start," said Howes. "Watching the live coverage, our bright kit was very visible at the front throughout the race. Our final finishing positions were not to our own standards but this is what makes cycling so much fun to watch. It's so unpredictable. It was also great to see Becks Durrell back racing again, pulling on the national champs jersey for the first time since the pandemic hit last year and also since giving birth to her first son earlier this year."
Becks was happy to be on the start line again after the break, she commented "It was great to feel the buzz of race day and soak up the atmosphere after a 16 month pandemic and baby hiatus. Otley you know how to put on a bike race!"
Gretton also had a few comments for everyone involved in putting on the race, "I'd also like to thank the organisers, British Cycling, Otley Town and the Local Authority for delivering a fantastic event with the addition of many covid safety measures in place."
A number of the team will be racing again at Guildford on Wednesday. Onwards and upwards!
Final team results:
14th Meg Barker
24th Jess Finney
29th Katie Scott
34th Illi Gardner
36th Emma Edwards
60th Kate Wootton
DNF Becks Durrell