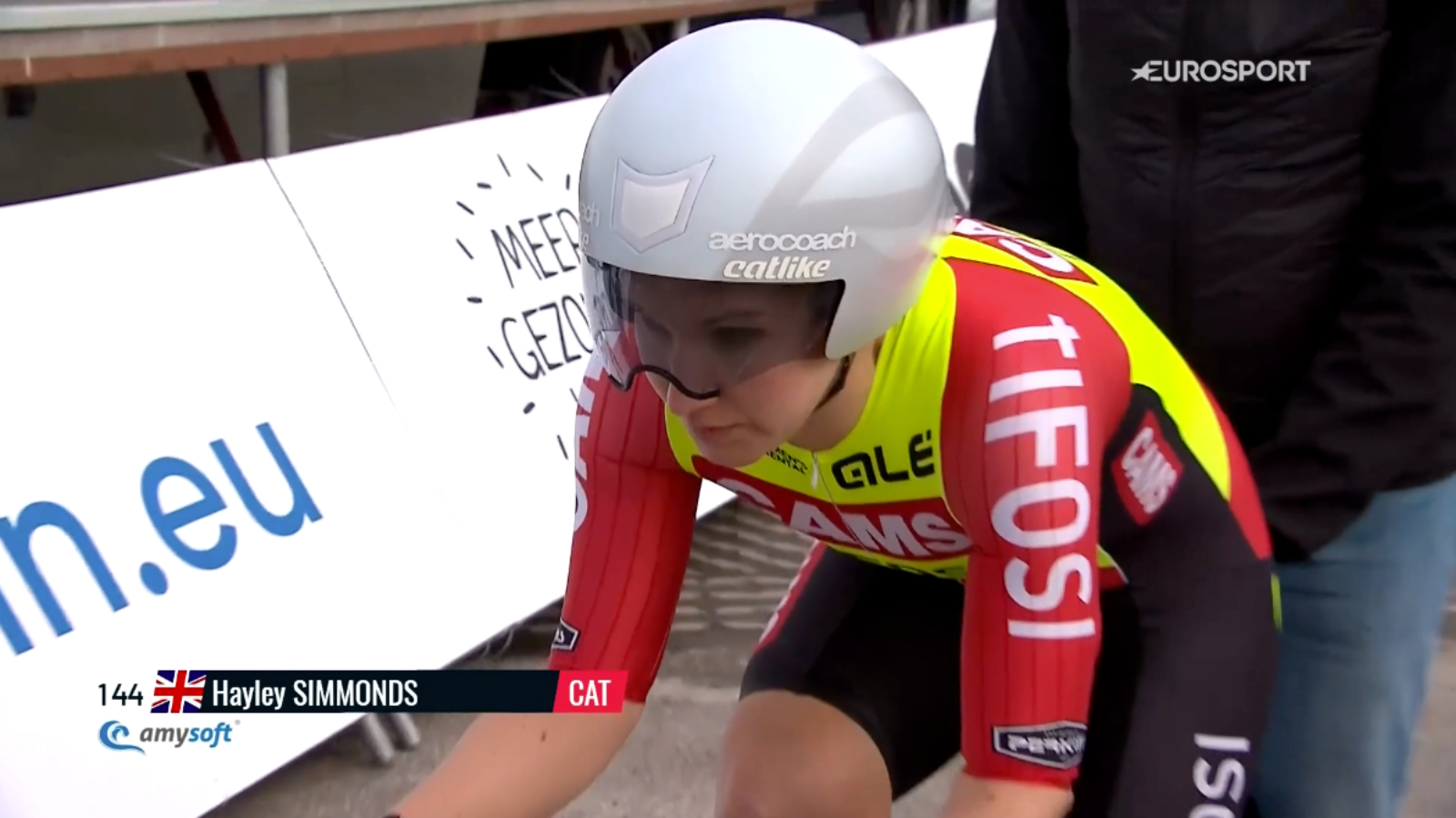 11 Mar

Great result for Simmonds as wind batters Healthy Ageing Tour

After a day of near apocalyptic windy weather conditions, former British time trial champion Hayley Simmonds put in a strong ride to finish 15th on the stage, the first of the CAMS-Tifosi riders.

Hayley covered the 14.4km course in 22.16s, an average speed of 38.8kph, and took the lead of the race for a while. But she was soon knocked off the top by former world champion Ellen van Dijk (Trek-Segafredo), the Dutch woman clocking an incredible time of 20.53s and winning the day.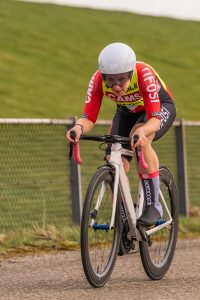 "Ellen was obviously flying today and for me that gap is not too bad for this point of the season," Hayley said afterwards. "On a course like that on a day like today Ellen is super strong and super powerful and quite a big rider so she would have coped well with these conditions. And she's probably used to it being Dutch!
"As the change in start time proved, conditions were improving throughout the day, and with all the CAMS-Tifosi riders going out in the first half of the start list, we were most affected.
"It's slightly frustrating. There were some people who were early starters who were a lot lower down than you might have expected and there were some people who were later starters who were right up there who again you wouldn't normally expect to be that close to Ellen.
"It was super windy," confirmed Hayley. "It was mainly a head wind out and tail wind back, and as the wind dropped you got a much easier ride to the turn. You didn't get as much assistance coming back but it was so strong coming back for us early starters we were spinning out of our biggest gear so you can't actually go any faster!"
How the race happened
With the wind still blowing very hard the first rider off was CAMS-Tifosi's Clover Murray at 4pm local time.
The course was an out and back, pan flat 14.4km in the tiny village of Lauwersoog, on the Dutch North Sea coast, close to the German border.
Those early riders were clearly struggling with the wind which buffeted them, making it difficult to stay on the road, let alone in a straight line. Clover set a time of 28.25, with Kate Wooton stopping the clock jus afterwards in 27.41, but it was Dutch sprinter Lorena Wiebes who crossed the line first.
Hayley was 18th rider off and obliterated the fastest time, stopping the clock with a time of 22.16s, some 50 seconds faster than the next best woman.
However, though excellent, that time was not quite enough, as former German champion Mieke Kröger soon took four seconds out of her, setting what looked to be a benchmark time of 22.12s. She reckoned without Van Dijk (Trek-Segafredo) though.
Setting off halfway through the day, the Dutchwoman smashed the field to set a time of 20.53s, her overall lead of 23 seconds setting her up nicely to try and win the race for the fourth time which will set a new record.
Tomorrow's third and final stage takes on the circuit used for the Dutch national championships last year. The peloton will ride 17.5 laps of the 6.6km loop taking on two ascents of the steep climb of the 48m high VAMberg, built on an old rubbish tip, making for a challenging day out.
"It's going to be a war of attrition and as long as we get four of the six riders to the finish line I think that'll be a good performance," said CAMS-Tifosi Team Principal Simon Howes. "The parcours makes it a tough stage, like the first day, but every finish and every day we do of racing is a bonus."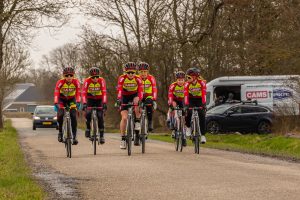 RESULTS:
Where CAMS-Tifosi riders finished (General Classification position in brackets)
15th Hayley Simmonds,       22.16s             (15)
75th Jo Tindley,                     24.45s             (75th)
83rd Jess Finney,                  25.09s             (83rd)
90th Emma Edwards,           26.10s             (90th)
92nd Kate Wooton                27.41s             (93rd)
94th Clover Murray               28.25s             (94th)
Stage 2 result
Ellen van Dijk (Ned) Trek-Segafredo in 20-53
Amy Pieters (Ned) SDWorx at 26 sec
Lisa Brennauer (Ger) Ceratizit-WNT
Emma CNorsgaard (Den) Movistar
Lisa Klein (Ger) Canyon-SRAM
Jos Lowden (Gbr) Drops-Le Col
Alice Barnes (Gbr) Canyon-SRAM
Teuntje Beekhuis (Ned) Jumbo-Visma
Anna Henderson (Gbr) Jumbo-Visma
Daniek Hengeveld (Ned) HT Krush Tunap
General classification after stage two
Ellen van Dijk (Ned) Trek-Segafredo in 3-34-56
Amy Pieters (Ned) SDWorx at 23 sec
Lisa Brennauer (Ger) Ceratizit-WNT at 25 sec
Emma Norsgaard (Den) Movistar at 33 sec
Lisa Klein (Ger) Canyon-SRAM at 39 sec
Jos Lowden (Gbr) Drops-Le Col at 41 sec
Alice Barnes (Gbr) Canyon-SRAM at 45 sec
Teuntje Beekhuis (Ned) Jumbo-Visma at 1-02
Anna Henderson (Gbr) Jumbo-Visma at 1-02
Daniek Hengeveld (Ned) HT Krush Tunap at 1-05
Tomorrow's racing preview: 
Stage 3 – VAM-Berg
Friday March 12
115.1km (hilly)
Location: Drijber
Start: 9.45am CET
Finish: 1pm CET
This circuit features the Col du Vam or VAMberg, which contains a short blast of 160 metres of 15-24% cobbles. Riders will ascend it a total of 17 times during the race.
All of these courses are closed to the public given the current Covid situation.
The Healthy Ageing Tour is broadcast live on TV and online – in the UK this will be on Eurosport Player and GCN.